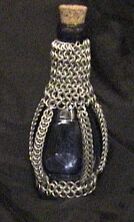 this bottle is my personal favorite that i've made.. no ring is bigger than 5/32" id.. wire is 19 and 20ga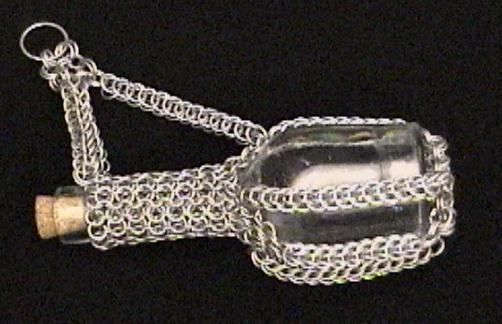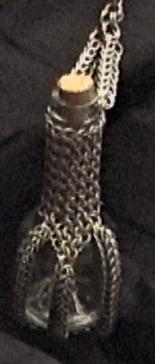 This was the first bottle I wrapped. It's intended to hang, as it is in the second picture.
The base - Doubled Oriental 6 in 1 - 1/4" ID
The strands on the bulb of the bottle are full persian - 1/4" ID (damn dense, almost too dense.)
The Neck - European 4 in 1 - 3/16" ID
The 3 hanging strands - Half Persian - 1/4" ID
I stole the idea to wrap bottles from http://www.iwaynet.net/~rwalker/portfolio.html#chainanchor .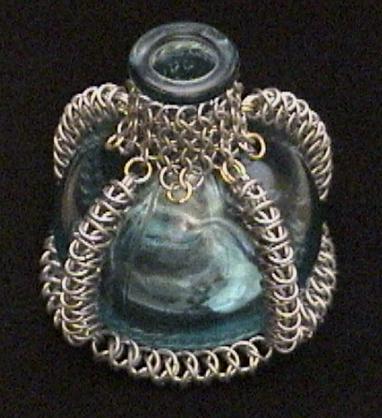 I did this bottle second. The Neck - European 4 in 1 - 3/16" ID
The rest is a strand of my own invention. See the Chains page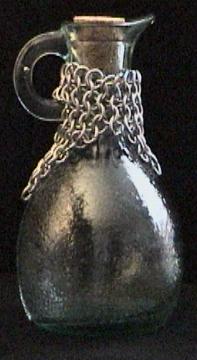 I just started this bottle this morning. It needs to be added to, still. Decorated, donchano.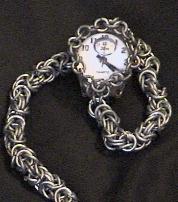 my first wrap with obstacles.. the watch is filled with water, that's why lindsey wanted to keep it...
you can see the hands pretty well...as well as get to the windy thing. this was fun to do... most of it's 1/8" rings...a few 5/32" and maybe one 3/16"
the chain is 3/16"