the chao pasture has moved to a new location. this site will no longer be updated. everything has been redone, but i'm keeping this site as it is a good maille resource. this link will take you to the new site.
STOP

And Think.

Remember you do have a brain, and using it isn't illegal...yet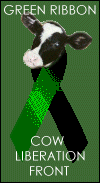 If you are not affiliated with any branch of the government that steals our freedoms to do what we know is the right, responsible thing to do you may enter. (members of my family who have the unfortunate condition of being government employees are exempted from this, of course)
If you are a government employee guilty of the above, cease your cranial rectal inversion. (Pull your toilet out of your donkey.) When you're done, go somewhere else.


there is no grace there is no guilt
this is the law: do what thou wilt

FREE FUCKIN'SPEECH!
fuckin use it or fuckin lose it fuck 'em if they cant take a joke!
this line does not exist
neither does this one
This is it. Things are coming to a head.
his men would follow him anywhere, but only out of morbid curiosity, into...
(Vamosel inferno ninos!!)
the pasture is the future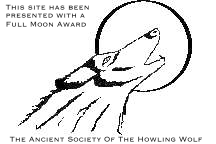 (Last updated january 13, 2001)
i added new pics of the house, and several other sculpture things

jan 13, 2001 update
i spent several times this evening addeding a prices page and cleaning up the site a bit.. hope it makes it more readable.
i got pics taken of my house and of a turtle and a musical instrument. and a true 4 in 1 cube.. they're at new pics
i updated pictures finally.. it's all in new pics


if you want to be added to my mailing list email me at chaostuff-subscribe@onelist.com
this is about my adventures around the country, not chainmail. if you would be interested in starting a chainmail listserve, let me know, i would be willing to moderate it when i have the access.

i put up a chain variation of the mobius ball in new pics

i sorted out the old "new" stuff.. and put some stuff in misc in its own area..

yet another update graces this corner of cyberspace.. a couple pics of the bottle i gave to my mom for mothers day.. a version of persian.. (i dig the rhyme brother) and a couple chains i've been working on in 19ga copper.. nothing too exciting.. but there it is... i also have a pic of what a mobius ball really looks like. new pics

i just posted the pics of the shirt i'm making for a friend.. only 4 pics right now.. but more as i get it closer to completion.. it has it's own page

new pics are up.. made a new area for new pics, so you get 100% new stuff in one page, rather than waiting ungoddessly amounts of time for the other pages to load.. new bottle, mobius ball, and a keychain i'm working on.. itll be awhile before i update again.. stuff is being made very slowly now.

well, it finally happened..i got capull tunnell.. i'm hoping it'll go away soon.. anyway, i'm not gonna have either the chao or the house up anytime soon.. i'd like to keep my wrists for a little while longer.. i'm having trouble deciding what to do to make the pages load quicker.. i've decided that myfilenames are very disorganized.. perhaps i'll just make a new page all together..

ok, i'm kind of working on the page a bit.. but i'm making more chainmail than working on this site :) i need some help.. if anyone knows of a program that will make thumbnails of a folder of jpg images and put the thumbs in a seperate folder, let me know.. also if you possess a vehicle and wish to travel the country and make a lot of money selling your craft, let me know i plan on traveling this summer.. and if you do good work you are more than welcome to join me. also, i am currently working on a 3d house.. and a tapestry of a chao.. (similiar to the peace sign in misc, but bigger) so no new pics for a couple weeks most likely.. these projects are taking a bit of time.. but they're gonna be so cool.

Pics are up.. in jewelry (a hand flower and a necklace and the first decorated IPQ chain i've done), baskets(the largest 2 decorated baskets on my page), fabrics(oriental 3 in 1), body pieces(the dress is done) and misc(the turtle).

it was requested that i make the pages faster to load. i am working on text versions of all the pages.. so far body pieces and baskets have been done. if you want one in particular more than another.. email me also, i made a chainmail turtle.. and have access to one of the handflowers that reside in ohio, so pics soon hopefully. yeah..and a couple more bottles.and the aluminum dress is finished, i also made come neat changes to a couple of pieces that are already finished. and a necklace made out of 3/32" id 20ga idoit trap with some 2mm jumper rings added in.. very nice.. i think i also made some twisty neckalces out of 19ga 3/16" and 5/32".. and an 1/8" 19ga idoit trap.. peace

normalli i wouldn't tell you about adding one link.. but this is the dankest link i've come across in awhile.. this guy says he's developed 150 (i thhink) weaves on his own..above the 8 he was taught...and he has some up there.. some he calls biased weaves..and an interesting variation of the box pattern.. with a better open to closed ring ratio than the idoit trap. check it out..

new pics..... Well, i removed fishstick.. i needed space.. that big update is later on today.. peace ok, it's up.. body pieces, jewelry, misc. that's it i think.. i have some more stuff started now.. and a bottle i forgot to take a picture of..

k.. there will be no updates until friday mar 12.whatever it is.. friday.. cause i have my first craft show on saturday and that's mainly what i want pictures of. i have a really cool mantle using a ring id fade. and a belt and several rings and some really cool handflowersas well as and another belt (or leg things whichever the buyer wants) and i'm not sure what i'm going to make during this next week..

there may not be any updates for awhile.. i'm formatting my hard drive very soon.... dweezle has some new weaves on his page.. quite ingenius of him i think.. a european 3 in 1.. kind of a dready weave.. chaotic.. i like it. uhmm... if i don't update by wed of next week.. email me at chao523@juno.com and i'll send you the new pics i take this weekend..

ok.. there was a very small update about 4 days ago.. small enough i didn't say anything here.. in the guild area there is a picture of a new chain a guy sent me.. (he sent the pic email..not the actual chain..) and it's cool.. kind of a valentine's day groove.. on another note.. there were 3 counters hidden around my page.. one at the bottom of this page, one at the bottom of the weave instruction page and one at the bottom of the old main page.. i deleted them all.. all i wanted to know was that people were coming.. i know that now.. i got 120 hits to just the weaves page in Jan, and 60ish so far here in Feb.. so, no more tracking you people. peace.. oh yeah.. and expect a really big jewelry update this weekend.. (sun/mon) ish.. i'm bustin' my donkey..

k, there will perhaps be an update within the next week.. i'm going to ohio and if i can post the pics i take while i'm there, i will.. i'm making a really cool hand flower...and if i make some stuff to sell, i'll get pics of it i hope.. if i get access to the digital camera while i'm there.. if not, there will not be an update until the 21st at the earliest..

more pics under body, misc, all sorts of good stuff a cool purse under misc. ummm, some beads are up.. some.. umm... a fabric, a.. umm.. jewelry.. some wire mushrooms that my sister made (they rock [in a metal sort of way]) a chainmail heart, under misc..

Added a hemp links page.. it's under my personal section

just added an idea page.. (non construction... more on supplies and the like)

I put up more conversations between dweezle and i.. i also thought about some stuff i'd like to do to the site, but have neither the time nor the effort.. i have some cool stuff that'll be up soon.. half of a purse with extensive color in it. if it wern't for color, i'd get bored with chainmail, i think... color me a rainbow, baby.. oh yeah, added a couple of REALLY KICKASS links in my links page.. umm, oh yeah, i don't have a strictly chainmail links page... well i guess i do now :) as soon as i make it... it will go up with this update.

added a photo page.. i'm updating both the new and old format pages

updated a lot.. got a bra under body pieces.. got rings under jewelry.. got more under my tools page... got more under chains... got a version of the persian sheet i figured out this morning.. a new basket, using an attempt at 8 in 1 oriental.. wrapped a watch under misc.. probably added some other stuff... i don't really remember.. i'll extrapolate on the stuff i just put a word or two under when i feel like it.

Another update today.. seperated the personal pages and the chainmail pages. big pic update tomorrow. on the 23rd..hail eris..oh yeah, i did some other stuff too.. i added a page of the emails between dweezle and i..under guild. and...um..fixed some misc errors on the weaves page.. as well as misc other stuff that i don't remember.

Added the Guild page and linked to my prices

I added a lot of stuff today.. just about every chainmail section updated..except jewelry and mini armor.. new instructions on weaves up.. Baskets section added, my tools an stuff put up, and my prices are going up very soon.. I've decided to take this site commercial. I've reached a point where I feel I've learned enough to sell my work.

added all the pages to the menu, added the menu to all the pages, misc cleanup

added a page of poetry and a page of music links. added to various sections. no new pics until after jan 5.

I added the instructional section, email me for the address.

The FishStick link works.

Added more basket pics. and a cool choker.

I added some more pics.

Links page added

I have my song posted now. It's under Grazing...

The new pics are up. Sections added to: Fabrics, Chains and Misc. Body Pieces section added.

I update this site frequently (or I hope to continue to do so)

reload this page every once and awhile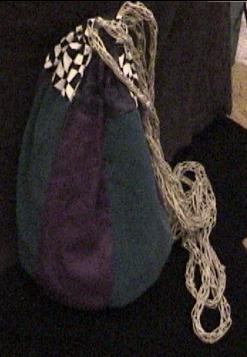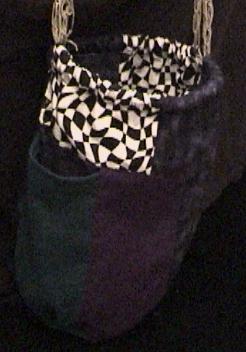 my sister's handywork...so to speak

peoplewho putyour christmaslights upin november..... god doesn't love you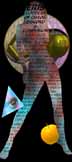 How I Found the Goddess and what I did to her when I found her

Lewis Carroll wrote some of the best words.. well maybe it was the order in which he put them.. Either way, here they all are.


I take this web space opportunity to complain about the pigs commonly referred to as the DEA. In 1996 there was a Colorado Industrial Hemp (Cannabis Sativa with a THC content of less than .01%) bill was shot down in the House of Agriculture Committee. The main reason for this was a local DEA officer testifying that under no circumstances would the DEA issue a permit to any farmer to grow hemp, which was one of the stipulations of the bill. If the bastard were here, I'd burn him alive.
Stop butchering our forests. The forests are the lungs, the thermostat, the centers of biodiversity for the planet. Every tree that is cut brings us one step closer to death.
Duh! Grow hemp!
Cease the senseless war for oil. A few people end up with billions of unearned dollars at what cost to the environment? Petrol plastic is non biodegradable, whereas plastic made from hemp is biodegradable. The pollution that using petrol gas (through all the stages of it's development, such as drilling, transporting, refining...not just what comes out of your car.) causes to the planet is beyond forgiveness. Maybe a use will be developed for petroleum which will save the lives of uncounted individuals. Tough shit, if it's all burnt up in the people movers.
Duh! Grow hemp!
Remember, this is your home, every concrete sidewalk, steel structure, growing tree , river, ocean, mountain peak, molecule in the atmosphere, planet, star, black hole and quantum unit anywhere in the universe. Treat it with respect.
No sane being would burn their shelter for warmth.
that's phariyan in urdu
Don't forget to visit The Chao Pasture