Miscellaneous
Again, look in the fabric and chains pages for closeups of these weaves.
This is where all the stuff ends up that has no proper place for it. This is my favorite section, as it has the most possibilities.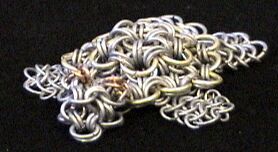 this is my chianmail turtle.. made mostly form 19ga galvanized steel. inne cute?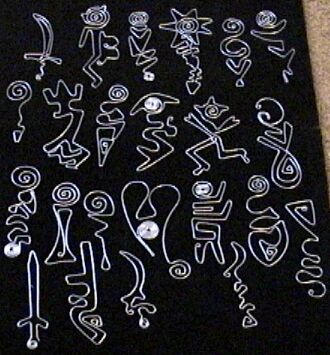 bookmarks.. exactly 23.. it just worked out that way... some of them won't work.. you clip the spiral over a few pages.. didn't start conciously adding that until about #11 or so.... the majority of them will still work, tho. that is my foot and a pile of chainmail there as well:)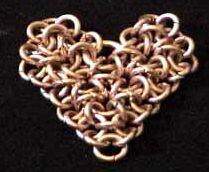 this is my second heart... it was made cause a little girl fell in love with the first and only promised not to steal it if i made her one..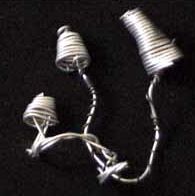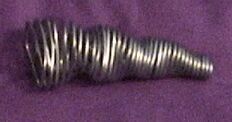 good example of how a plierbead looks
these are some beads i can make.. i wrap wire around my pliers and it makes a cone.. my sister made the mushrooms above out of my scraps
i can make other beads, i just didn't have them when i went to take pics.. next update hopefully..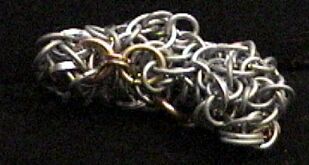 chainmail dreadlock.. inspired by the guy who made a fish.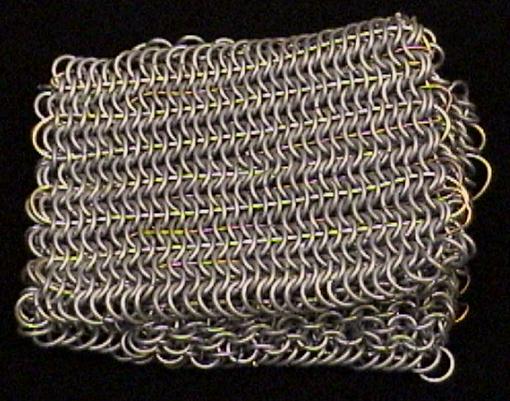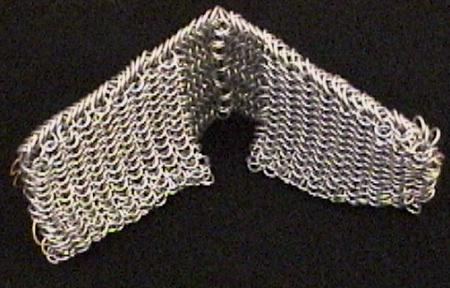 A friend of mine said, "Can you make a chainmail wallet?" "I can try."
Outside - European 6 in 1 - 1/4" ID
Inside - European 4 in 1 - 3/16" ID
Copper (18? 20? gauge I don't know, really it was a gift from the owner.) and Brass (16 gauge) are wound through the opening for stiffness.
I made this after first making a section of European 6 in 1. I said, "This would make a good whip handle." It doesn't work that well, and flies apart. I'm thinking of using a cold weld to join the rings. Does anyone have any experience with cold welds?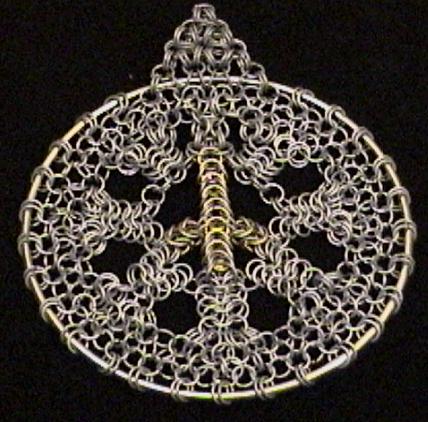 This is with a 6" hoop. I just realized the flat rings on the Oriental 6 in 1 on the top aren't doubled. I get to fix that. :) I'm going to replace the galvanized steel in the peace sign with stainless steel. All of those rings are 1/4" ID. peace, hippy.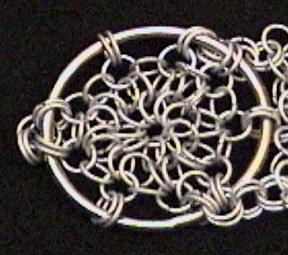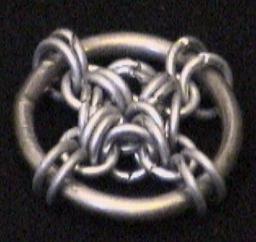 There are two of these on that shoulder thing. This is slightly larger than a quarter.
Nipple gaurds? whatever I use it for, I guess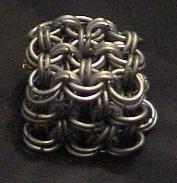 a cube
This is cool. With this I could build a castle.
That would take quite a bit to do though.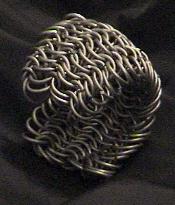 this is Franz. Hi Franz. I think Franz might need a little explanation.
He belongs to Pete. I think playing with chain is more fun than wearing it.
5/16" ID